News – September 2023
ESS Discount for new Members!
Are you a shakuhachi player, student, composer, or enthusiast based in Europe or with an interest to find out what is happening in the European scene?
Come and join us now – only €10 for the first year!
We are offering a special rate for any new member subscription until 31 December 2023 – register here!
What's that?
The ESS is a membership-based non-profit association based in France but supporting activity and bringing together shakuhachi enthusiasts from all around Europe and the UK. We have over 150 members Europe and beyond, and we want to grow this community even more.
We are offering a 50% discount for the first year of membership for any people who become new members before 31 December 2023. If you are just starting out on your shakuhachi journey, or if you have been playing for a while and are not sure if being an ESS member is for you, then join us for this reduced price and get a flavour of all the benefits of being a member!
The normal price for an annual ESS membership is €20 and the discounted price is €10. For this price you get discounts are any events organised by the ESS, can participate in ESS events (e.g. winter concert) or help with organising activities if you have a particular interest, and get discounts on online shakuhachi shops.
BAMBOO NEWSLETTER
CURRENT ISSUE
Next issue 1. December 2023
Online Events Season 2023/24
We have announced an exciting series of online events and workshops for 2023-2024, including:
2023
• 15 October – Introductory workshop for beginners (Riley Lee, Daniel Ryudo)
• 11-12 November – Beginner/Elementary workshops (Riley Lee, Daniel Ryudo, Véronique Piron, Elizabeth Reian Bennett)
2024
• 21 January – ESS New Year Concert
• 11 February – StartingUp/Beginner workshops (Christopher Yohmei Blasdel and Kiku Day)
• 2-3 March – Intermediate/Advanced workshops (Akihito Obama, James Nyoraku Schlefer, Elizabeth Brown, Gunnar Jinmei Linder)
• A series of five events in April/May 2024 exploring voice and shakuhachi
– 13 April – Shōmyō Buddhist chant (Junko Ueda)
– 14 April – Singing honkyoku workshop (Teruo Furuya)
– 20 April – Voice in sankyoku workshop (Shino Arisawa, Miyama McQueen-Tokita)
– 27 April – Min'yō workshop (Kinzaburo Abe)
– 4 May – Vocalising shakuhachi (Anne Norman)
• 2 June – Shakuhachi & Improvisation (Ned Rothenberg, Detta Danford, Natasha Zielazinski)

To find out more about the schedules, teachers, and to register for the workshops, visit our dedicated page: https://online2023-24.shakuhachisociety.eu/
---
ESS Summer School in Balbriggan, 20-24 July 2023
With huge thanks to Phil Horan and his team in Ireland, this year's ESS Summer School was a huge success. We left the beautiful island of Ireland full of inspiration, ideas, new pieces, memories of amazing performances by the teachers and students, and of course bellies full of Guiness!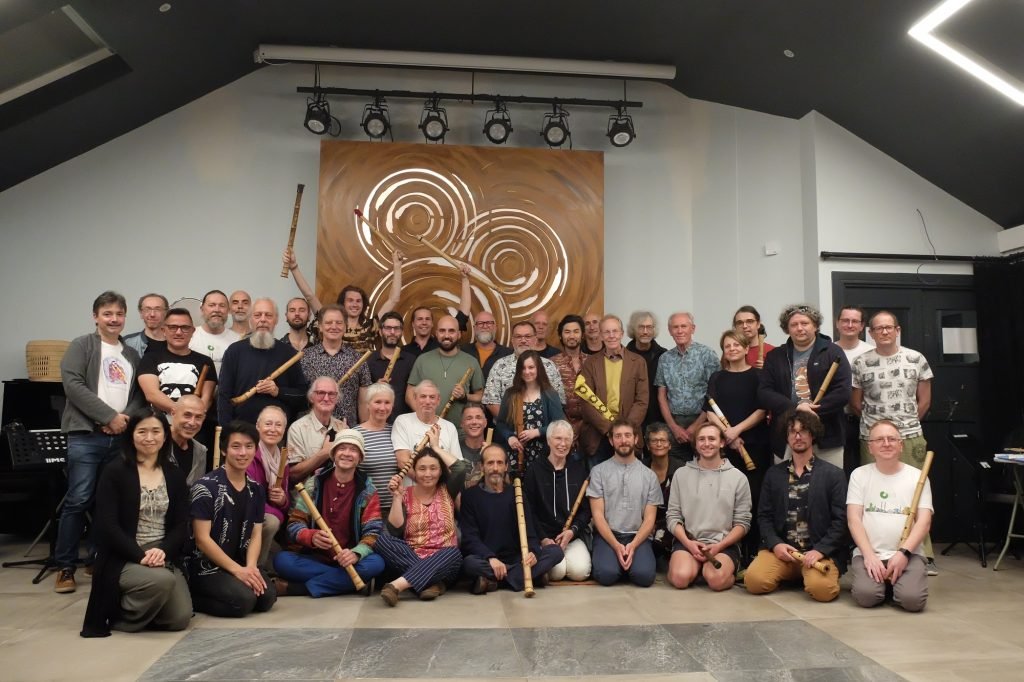 Sakura Planting Ceremony at the ESS Summer School in Balbriggan 2023
One of the most memorable events of the ESS Summer School 2023 was the planting of the sakura tree. The Ambassador of Japan to Ireland, Mr. Maruyama, made a special visit to the Irish Institute of Music and Song in Balbriggan to show his support for the Summer School. He attended the Gala Concert with performances by some of the teachers at the Summer School, and we then all went out to the garden of the IIMS grounds and took part in a tree-planting ceremony.

In the ceremony we all stood in the gentle rain as a few speeches were given, and then we collectively played Sakura Sakura, while the Ambassador took the spade and ceremonically planted a sakura tree in the garden of the IIMS together with a dedicated plaque to commemorate this special event.
The plaque features a beautiful engraving of a shakuhachi player and has the following inscription:

"This Sakura tree, symbolising the spirit of the Japanese people which is closely associated with the culture of Japan has been planted by the Ambassador Extraordinary and Plenipotentiary of Japan to Ireland, Ambassador Maruyama Norio, to mark the occasion of the Irish Institute of Music & Song hosting the European Shakuhachi Summer School 19th to 24th July 2023"
---