NEWS – THE EUROPEAN SHAKUHACHI SOCIETY – NEWS
Tatiana Rechnaya
The ESS Board and Adviser Group are saddened to learn of the untimely passing of the Russian shakuhachi player Tatiana Rechnaya on 16 April 2022. Tatiana and her partner Dima participated in WSF2018. She made many friends there because of her friendly character and her enthusiasm about the shakuhachi and Japanese music in general. At WSF18 Tatiana became a min'yō lover and stayed in contact with Enomoto sensei, who taught min'yō shakuhachi, till the very end. We have lost a beautiful member of the shakuhachi community. She was a sensitive and kind soul who loved peace and music. R.I.P.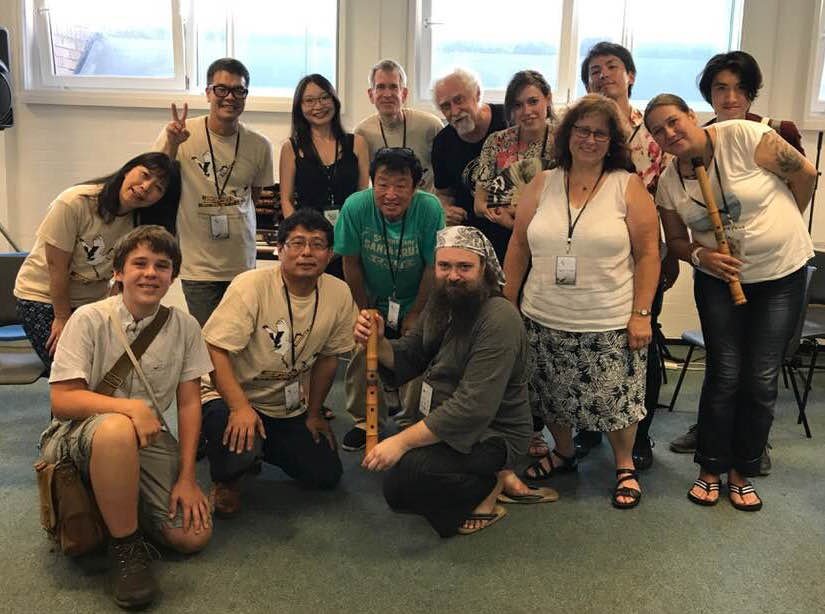 ---
April 9: The Registration for the 1. Online Event on the Road to Dublin is now open!
Dates: Saturday 28 May + Sunday 29 May 2022
Teachers: Araki Kodo VI, Shiori Tanabe, Horacio Curti, Nina Haarer, Philip Horan
Fees: ESS-members € 40 / Non-members €50
Registration: http://roadtodublin.shakuhachisociety.eu/registration
---
We are happy to announce the Road to Dublin – a series of weekend online events taking place between May 2022 and March 2023.
As due to the pandemic it was still not possible to organise the Dublin ESS Summer School in time for this year, we put forward an extended series of online events to give us all the opportunity to be in touch virtually and move together step by step towards the ESS Summer School 2023 in Dublin, Ireland, where we finally can meet up again in person.
The Road to Dublin 2022 – 2023 timeline:
28/29 May 2022 – 1. Online Event
November 2022 – 2. Online Event
December 2022 – ESS Online Concert
March 2023 – 3. Online Event
Summer 2023 – Dublin ESS Summer School
We already can announce the line up for our 1. Online Event:
(the other event dates and details will be announced in due time.)

1. Online Event – Saturday 28 May + Sunday 29 May 2022
We are particular happy to have, from the US Araki Kodō VI representing the oldest continuous shakuhachi lineage, as well as from Japan, Shiori Tanabe, representing the young and exciting new generation of the Tanabe shakuhachi family.
And we have a fine selection of European guest teachers too: Horacio Curti, Nina Haarer and Philip Horan.
The programme will have 10 sessions covering traditional and modern pieces, tips and technique and of course there will be moment to ro-buki together.
The detailed schedule and programme is to be announced in early April and registration for the 1. Online Event will open on the 9 April

Visit: roadtodublin.shakuhachisociety.eu

Hope to see you there!
ESS committee
---
NEWS 2021
---
NEWS 2020
---
NEWS 2019
---
NEWS 2018
---
NEWS 2017
---
NEWS 2016
---
NEWS 2015
---
NEWS 2014
---
NEWS 2013
---
Please send any items to be considered for inclusion on this page to info@shakuhachisociety.eu